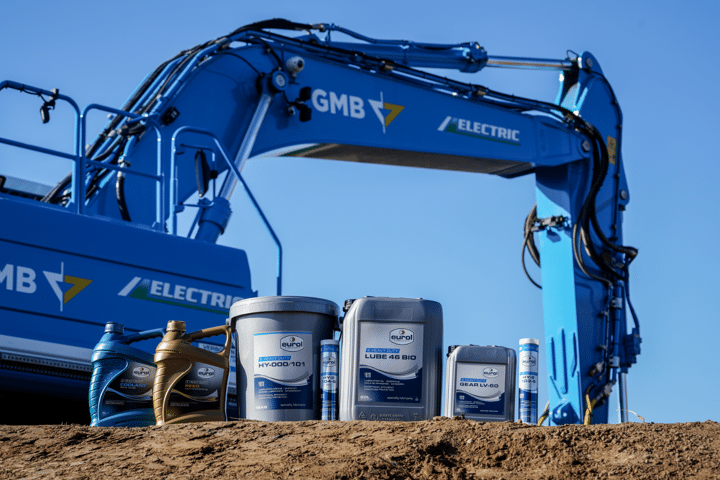 Introduction of Eurol E Heavy Duty for electric heavy machinery
The Eurol E Heavy Duty concept consists of a hydraulic oil, three different lubricating greases, and a transmission oil that fall under the Eurol Specialty range. These products ensure high energy efficiency and unmatched protection in extreme conditions, guaranteed by SYNGIS technology. The range is complemented by a coolant for battery packs and an engine oil for range extenders. The products are clearly identifiable with the 'E Heavy Duty label' on the packaging. All products within the concept contribute together to reduced friction, lower energy consumption and emissions, optimal temperature control, and seamless lubrication in both closed and open systems.
The E Heavy Duty products are also suitable for hydrogen-powered machines and even offer benefits for machines with a traditional combustion engine. The high lubrication performance results in a lower ecological footprint and lower maintenance costs.
Martijn Pfeiffer, CEO of Eurol, on the new innovation: "The number of electrically driven machines in road and waterway construction, earthmoving, and rail & infrastructure is growing rapidly. This is partly due to stricter legislation regarding the reduction of CO2 emissions and nitrogen emissions. Lubricants for these machines must meet specific requirements. It is important that the lubrication is optimal, thereby keeping friction as low as possible. This has a direct effect on how long the battery pack can provide energy throughout the day, which leads to a significant increase in productivity.
In addition, the sustainability aspect is important. The E Heavy Duty concept also contains biodegradable products and is therefore eminently suitable for operations in sensitive environments, such as natural areas and open water. Eurol E Heavy Duty is an important next step in the transition to an environmentally friendly workplace without emissions.
At Eurol, we are at the forefront of this transition. We support our partners not only with innovative products but also with our knowledge and experience that is needed to make a difference in this rapidly changing, more sustainable world. We are aiming for a future where optimal lubrication performance goes hand in hand with corporate social responsibility."
Like to know more about E Heavy Duty?
Watch the video, contact your account manager, or call Business Development Manager Export Specialty Lubricants Raymond Welters at +31 6 13 87 34 17